Digital Prison Services
From March 2017 I began working for Syscon Justice Systems and with HMPPS (Her Majesty's Prison and Probation Service) on a replacement for the main system that manages prisons, called NOMIS. Syscon worked on the original version, which was launched in around 2009, and has been asked to help rethink the entire system in conjunction with HMPPS.
Initially the replacement was intended to be trialled on mobile devices but we expanded the work to include desktops. The services we have designed all run in browser and are fully responsive, whilst all of our users are either using desktop machines or laptops at present.
As well as working on the main prisoner search and profile screens I also designed a service to allow staff to generate and print 'unlock' lists for when the prisoners are leaving the wings and heading off to their daily activities. In addition, the team worked on a service to allow staff to move prisoners from one cell to another. During the early stages of the Covid-19 pandemic we also quickly responded to the needs of the prison service by creating a service to track which prisoners were isolating, who had newly arrived at the prison and who had decided to opt out of shielding.
I have been out on well over 100 prison visits in the past few years and have been heavily involved in research activities. My main focus has been on interaction design but I have also carried out various elements of service design when we have been without a dedicated service designer on our teams.
Client
HMPPS (Ministry of Justice)
This is an example of a user flow I created in conjunction with stakeholders and end users to understand that current process 'as is' for a DPS service called 'Whereabouts' that I worked on. I created several such flows I've created over the past few years.
An example of the main prisoner profile which has evolved several times over the past few years. This view allowed staff to see the key information about a prisoner in one go, versus the older system where the data was spread across multiple sections. The tabs are used to separate key information, such as case notes and alerts.
This is an example of how the switch to a web-based, responsive layout can dramatically improve the readability of information, in this case the alerts details of a prisoner. Whilst tables aren't always the ideal pattern to use, we have several sections in DPS for which they make sense. We also don't have any users who are on mobile devices or tablets so the width of the screen is less of a consideration.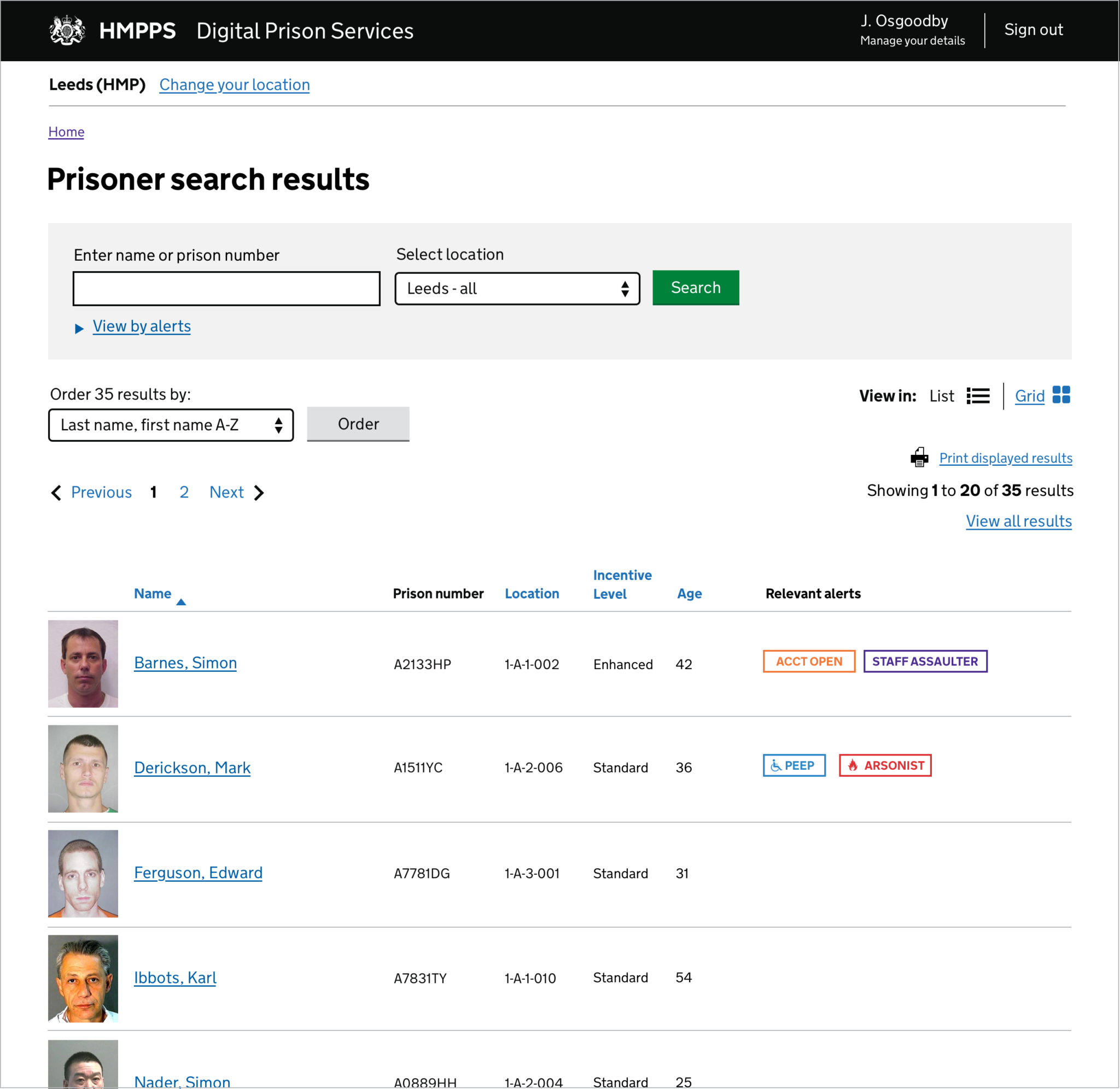 The prisoner search results page also vastly improves on the original NOMIS version. We were able to add larger photos, more key information and the ability to reorder the results, plus view the results as larger prisoner photos if a users is not sure of the name but recognises the face. The coloured 'flags' on the right are used to highlight particular risk-based alerts that staff should know about the individual.
The main home page for DPS has also evolved over time and recently we have settled on using the 'tiles' pattern that can be found on GOV.UK and on sites like the NHS Digital pattern library. It allows users to read what is in the section before clicking on it and it works really well on different screen sizes. Tiles can be hidden depending on the roles that the user has.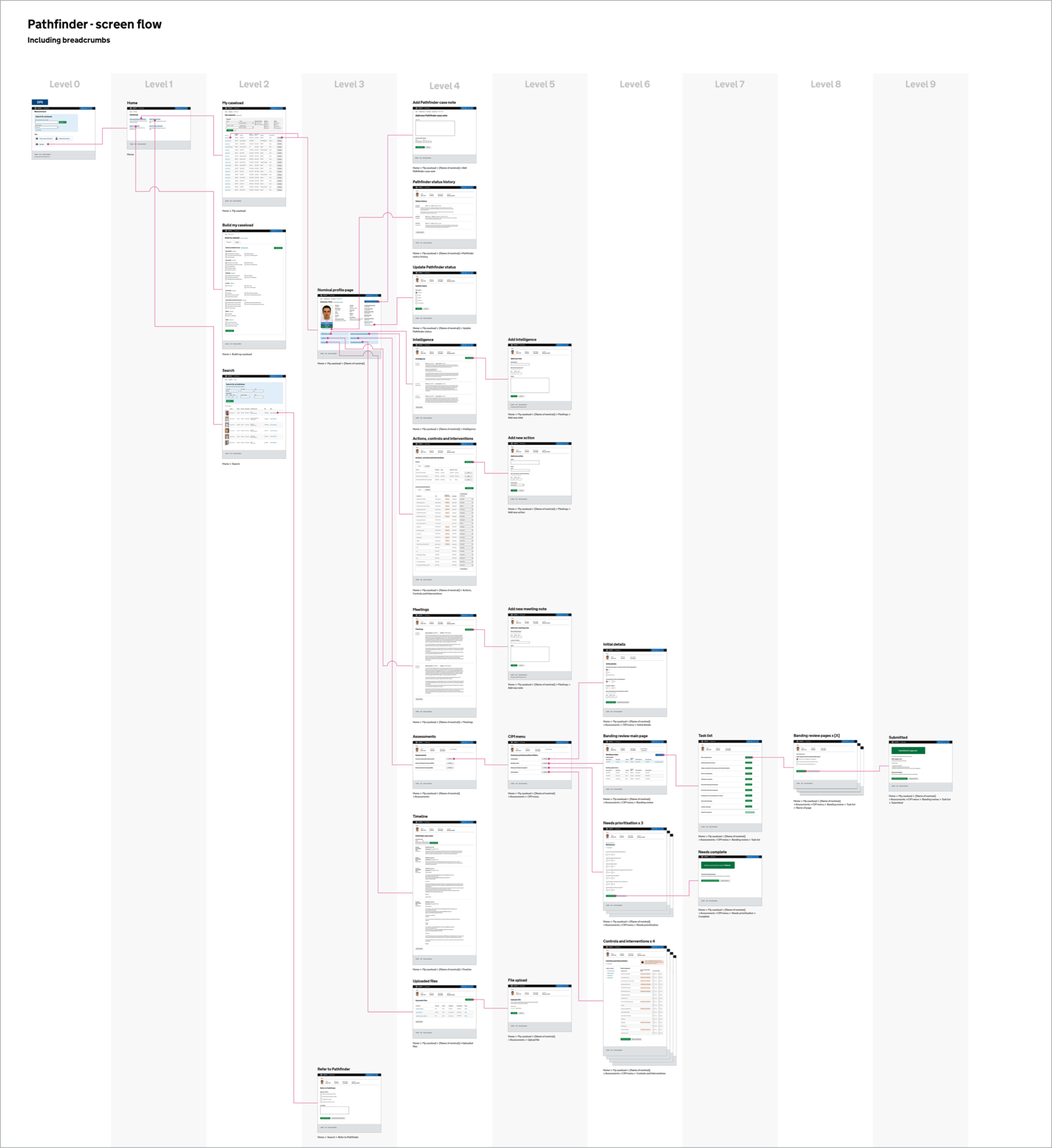 This is an example of how I have used 'levels' to show the screen flow of DPS services, in this case one called Pathfinder. It helps colleagues and stakeholders understand the scale of the service and the 'depth' of particular sections.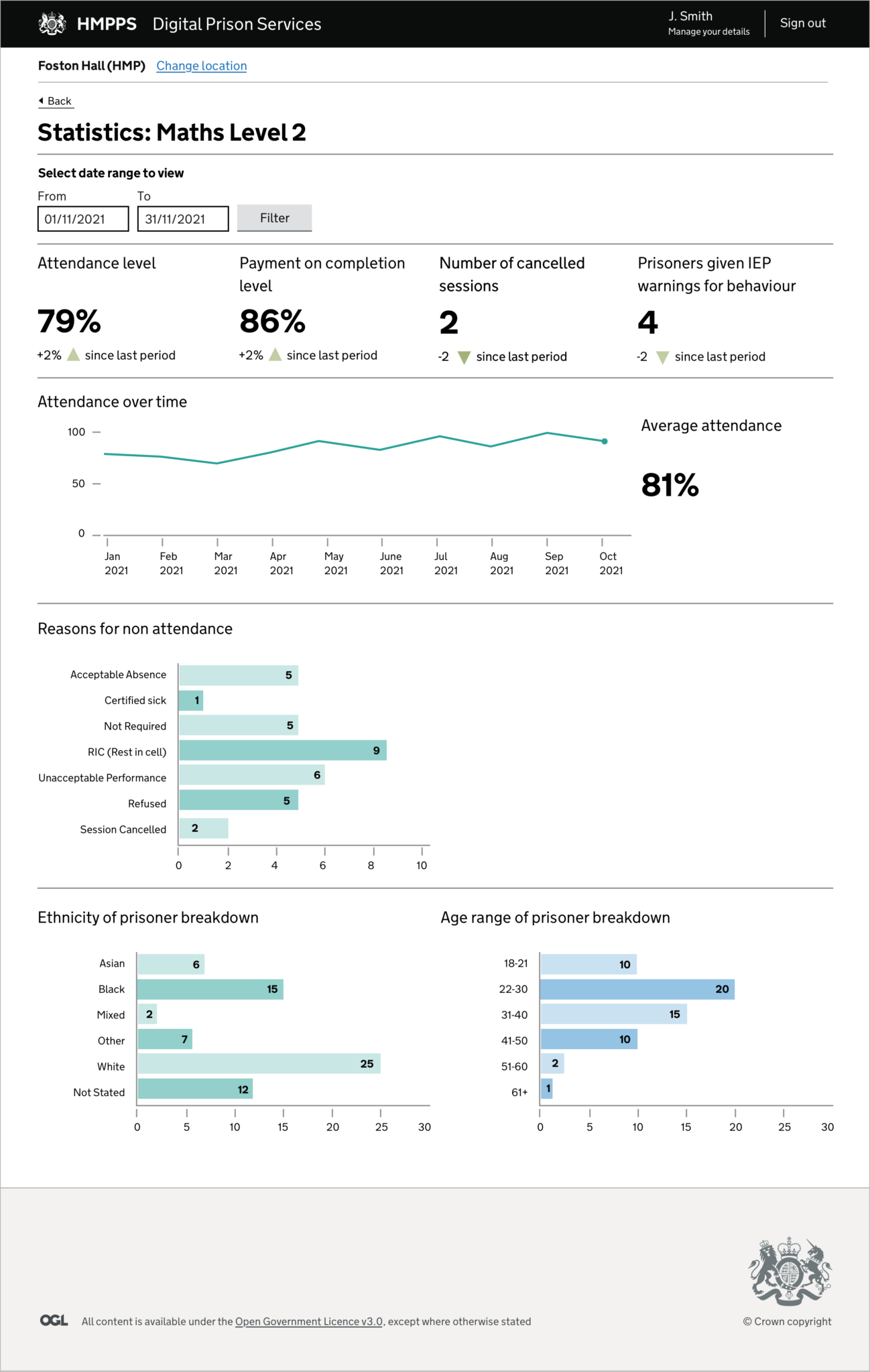 This is a prototype of a stats page I worked on for the 'Whereabouts' section of DPS. There are lots of existing reports that staff use to monitor things like the progress of prisoners and the performance of a particular area of the prison, but these tend to be spreadsheet based. We have started to create these live 'dashboard' views since they are constantly updating, much easier to read and can be accessed by more staff.
An example of how pages can evolve beyond their initial MVP (Minimum Viable Product) version. This cell moves 'Select an available' is fairly dense with information but we worked hard to only include the necessary details on there. For more key information, such as the other prisoners' details, we decided to have them accessible via a link. The MVP version opens a separate page with the information but this does break up the flow of the journey somewhat, so we have developed an accessible modal overlay for the same information which will be implemented in a future release.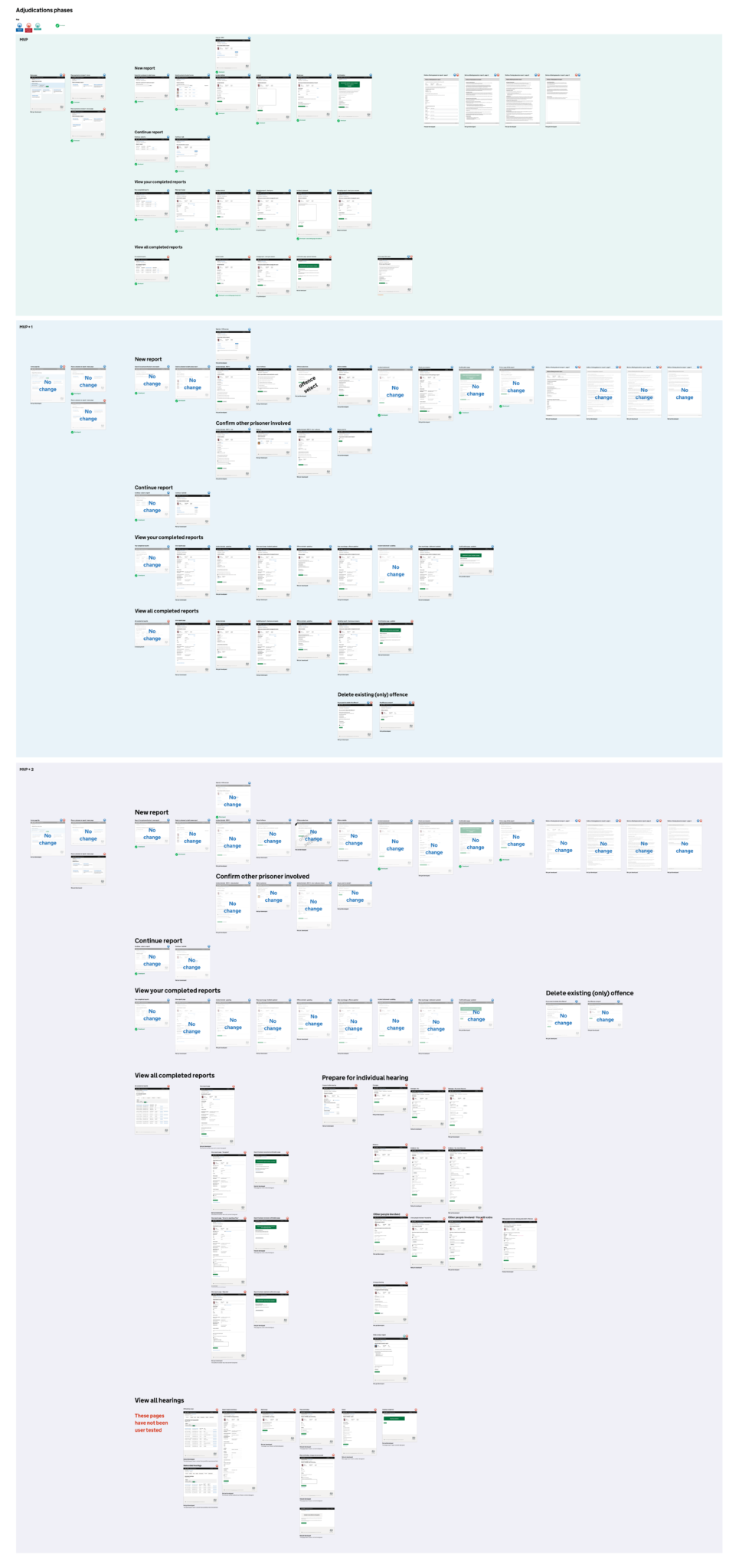 This diagram was used to keep a track of what screens were being developed for each phase of a particular service, including what evolves with each release. This helps the entire team keep a track of what has been completed and what is still to be developed, as well as what still needs to be user tested.